Ernest Peeples - Director of Business and Economic Development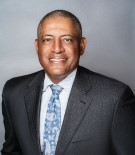 Ernest Peeples is the director of business and economic development for Entergy Texas. Peeples is responsible for fostering economic growth in the Entergy Texas service area through collaborative business development efforts with state and local agencies. He also oversees the company's major industrial accounts team.
Prior to joining Entergy Texas, Peeples served as a consultant with L&G Holdings, where he led client engagements around business development opportunities in the areas of oil & gas strategy, retail marketing and product trading and origination. Previously, Peeples held leadership roles in business development with BP, Vopak, Shell and Amoco.
In addition to his professional role, Peeples serves on the boards of directors for the Lilydale First Baptist Foundation and the Wheeler Avenue Inner City Visions charity golf committee. He previously served as a director for the Houston Area Urban League.  
Peeples graduated with a bachelor's degree in computer science from Morehouse College and a master's degree in business administration from Cornell University.   
Updated May 2022