Construct a New Rocky Creek to Lewis Creek 230 kV Transmission Line Project (Montgomery and Walker Counties)

Upgrade the Existing Newton Bulk to Leach 138 kV (Newton County) 
Southeast Texas' and surrounding area's population and economic opportunities are growing year by year. To support this growth, Entergy Texas, Inc. has launched a project designed to bring additional power to one of the fastest-growing areas in Texas. The Western Region Economic Project calls for the construction of a new transmission line, the upgrade of an existing line and the facilities to support both of them. It also includes upgrades and expansion of an existing substation. The work will support and enable economic growth in the Southeast Texas area as well as enhance reliability for existing and future customers.

The Midcontinent Independent System Operator, Inc. in conjunction with Entergy Texas' transmission engineers and planners and other interested stakeholders, ensures that Entergy's transmission system will continue to reliably and cost-effectively serve its customers, both now and into the future. MISO identified the need for the Western Region Economic Project as part of the MISO 2015 Market Congestion Planning Study. The purpose of this project is to upgrade the electric transmission system to more effectively move lower-cost power into and within the southeast Texas area for all customers served from Entergy Texas' transmission system. Similar to cars driving in the same direction on a congested road in rush hour traffic, the transmission system can become congested when more power than is allowed by the capacity of the transmission lines tends to flow in the same direction through these transmission lines. Much like the construction of an additional highway can help reduce traffic congestion, incremental additions to the transmission infrastructure can help reduce the congestion on the transmission system and facilitate reliable, low-cost power to flow through the transmission grid.
The Western Region Economic Project involves two geographically separate transmission projects:
The eastern portion of the project involves an upgrade to an existing 138 kV line, within existing right-of-way, between Entergy Texas' existing Newton Bulk Substation near Newton, Texas and existing Leach Substation near South Toledo Bend by mid-2019. The western portion of the project involves construction of one new 230 kV transmission line by mid-2020 between the Lewis Creek Substation near Willis, Texas and a new Rocky Creek Substation west of Huntsville, Texas.
The new 230 kV Rocky Creek to Lewis Creek transmission line requires Entergy to request approval from the Public Utility Commission of Texas through a Certificate of Convenience and Necessity application, which can be viewed by clicking here. The approved route for the new 230 kV transmission line between the Lewis Creek substation and the new 230kV Rocky Creek Substation is provided in the maps below.
 
The final route was selected and approved by the Public Utility Commission of Texas.
Project Map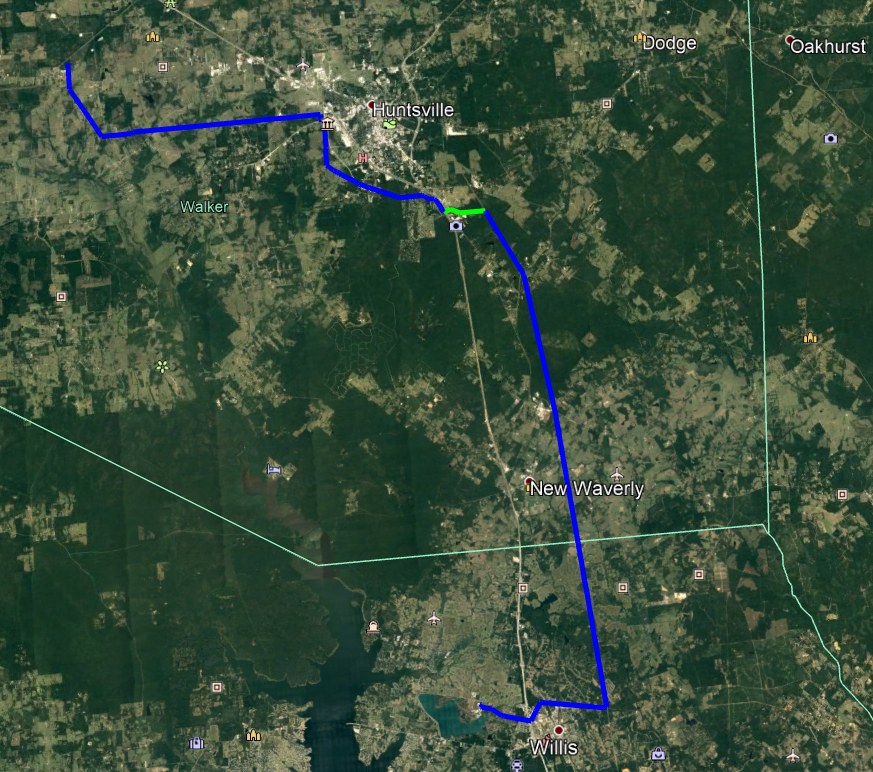 Typical Structures