Ryland Ramos - Vice President of Regulatory Affairs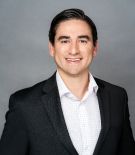 Ryland Ramos is the vice president of regulatory affairs for Entergy Texas. Ramos leads the company's engagement with the Public Utility Commission of Texas as Entergy Texas works to deliver new, sustainable solutions for customers.
Before joining Entergy, Ramos most recently worked as an energy policy advisor to Gov. Greg Abbott. He also served as the Governor's designee to the Texas Cybersecurity Council and the Texas Electric Grid Security Council.
Before joining the Governor's office, he worked in public and regulatory affairs for Entergy Texas. During his tenure, Ramos played an essential role in helping Entergy Texas advocate on policy to support the company's efforts to invest billions in new infrastructure to provide more reliable and affordable service to customers. Ramos previously chaired the Association of Electric Companies of Texas' Regulated Market Sector Council, which sets the legislative agenda for regulated electric utilities in Texas.
Ramos holds a bachelor's degree in political science from Texas A&M University and a juris doctorate from the University of Texas School of Law. Ramos volunteers his time at the Central Texas Food Bank. 
Updated May 2022